"I think we are all stunned! Seeing is believing. Your ability to juggle, introduce jokes, convey important information all at the same time was just priceless!
Dr. Sunita V. Cooke, President
MiraCosta Foundation
Keynote & entertainment in one unique presentation.
Twice The Value - Hire Nick, Get Alex Free!

Nick and Alex share their unique journey transitioning from world champion jugglers to successful entrepreneurs. Audiences can relate to their successes and failures as they learn key business principles including teamwork, innovation, and communication. In a unique presentation -- part comedy, part juggling, part family-feud -- Nick and Alex inspire audiences to challenge their instincts, think outside the box, and find their unique business proposition to take their careers and businesses to the next level. They customize routines to deliver an event-specific message in a fun, colorful and unique way. From executive retreats and annual meetings, to award shows or incentive programs, Nick and Alex can work with you to custom-tailor their show to fit any size, budget, and time requirement.
TWO FOR THE RECORD BOOKS
Nick & Alex haven't walked on the moon. But they do defy gravity.
They haven't developed the latest vision correcting lenses, but they do keep you seeing double.
They haven't discovered a new precious metal, but they are one of the most decorated teams in juggling history.
In fact, that's not what resonates with audiences. It's the story of juggling the challenges of creating a new business, working as a team, and finding their uniqueness which leaves audiences inspired and motivated.
Experience makes Nick & Alex easy to work with.
Having performed for more than 30 years, Nick & Alex understand the varied needs of clients. They have become proficient in altering their show to accommodate specific requests. ​​
"It was a huge pleasure working with you guys, you were
headache
free and true professionals."
-Dimas De La Cruz, Comic-Con |Funko Fundays
Types of shows/acts you can book.
Keynote (45 minutes)

High-energy Vegas-style juggling act (8 minutes)

Rodeo Rejects Comedy Act (5 - 15 minutes)

Who's On First? Tribute (8 minutes)

Trade show appearances

Spokespersons
Hosting and emceeing meetings

Product launches

Morning meeting wake-up calls

Juggling classes

Undercover characters

Interactive comedy
PRENOTE: How to successfully juggle social media engagement
Having a strong, relevant, and impactful social media presence for your business is imperative in today's crowded digital landscape. Nick and Alex visually demonstrate how the building blocks of your social program can help--or hinder-- your ability to be successful. With teamwork and comedy, Nick and Alex leave audiences with an elevated awareness of the challenges businesses face in the evolving social space.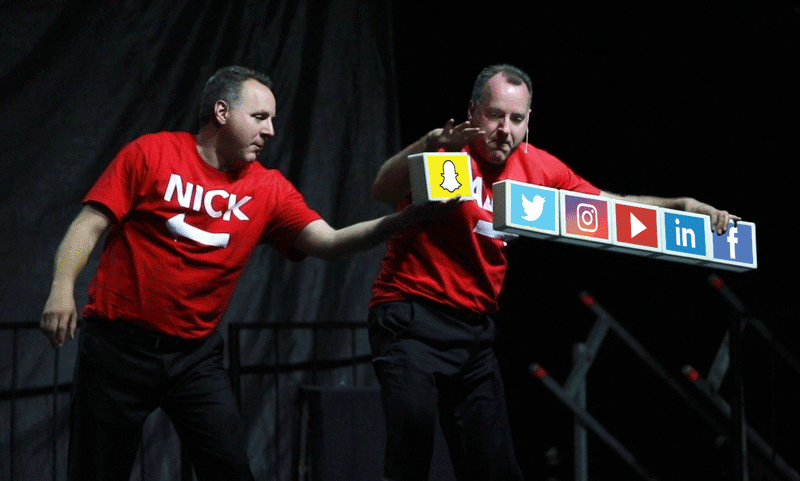 Need a keynote speech that educates while entertains?
Book Nick and Alex to showcase The Power of Communication or Teamwork Leads to Success, just two of the ways their show can demonstrate these key business principles.
KEYNOTE:
How to Be Unique in the Marketplace
Being identical twins automatically creates a challenge for Nick & Alex. They are the most unlikely people to share how being unique in the marketplace will set your business on a path to success. Follow the challenges, successes, and failures of Nick and Alex as they transitioned a career of juggling into a successful business in publishing, and careers in marketing, hospitality, and tourism.